Pest Control – Rodents
A guide to identifying common mice and rat species 
During the winter season, it's estimated that rodents seek shelter in more than 21 millions homes in the United States. This means that many homeowners will likely be dealing with mice or rats in their abode over the next few months – and you could be one of them.
Rodents can spread dangerous diseases and can cause major property damage, so it's important for homeowners to familiarize themselves with the types of rodents that invade homes this time of year. Here is a guide to help you identify common mice and rat species.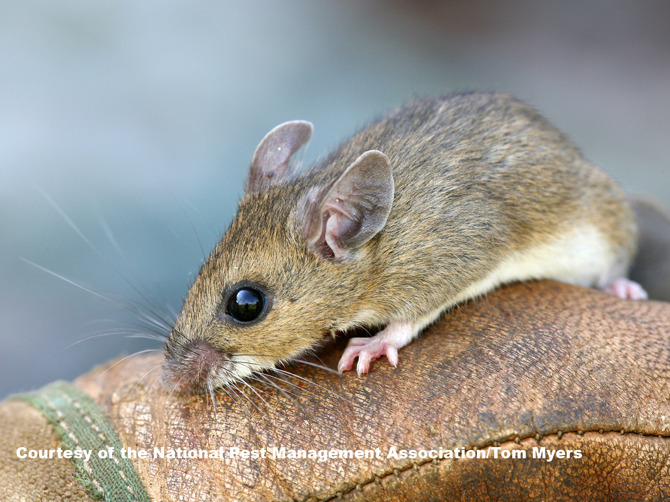 Region: Deer mice are found throughout the United States.
Habitat: Deer mice prefer to nest in rural areas, specifically in fence posts, tree hollows and log piles. Deer mice are rarely a problem in residential settings, but they can wander indoors during the winter months while searching for shelter from the cold weather.
Threats: Deer mice pose a significant health threat because they are the most common carrier of Hantavirus. This virus is transmitted primarily by the inhalation of dust particles contaminated with the urine, feces or saliva of infected deer mice.
Prevention tip: Don't store pet food or birdseed in garages or storage sheds, where it is especially attractive to deer mice.
Unique fact: Deer mice always have a bicolored tail that is usually half brown, half white.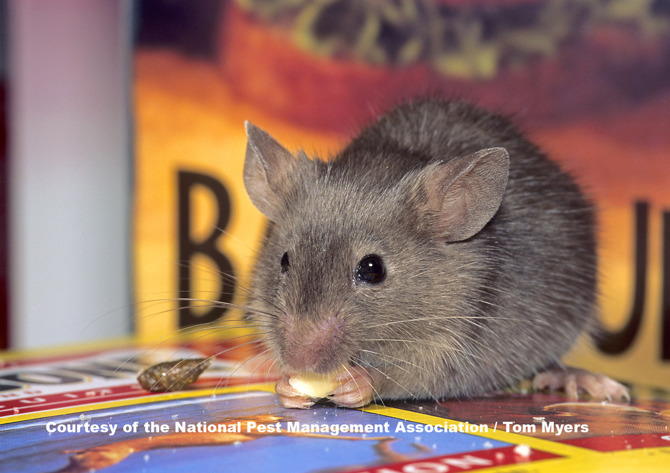 Region: House mice are found throughout the United States.
Habitat: Unlike deer mice, house mice usually nest in dark, secluded areas within structures. They are excellent climbers and can jump up to a foot high.
Threats: House mice can cause serious property damage by chewing through materials. In fact, they have been known to spark electrical fires by gnawing on wires inside homes. These rodents are also a health threat, as they can contaminate stored food and spread diseases like Salmonella, tapeworms and the plague (via fleas).
Prevention tip: House mice hide in clutter, so it's important to keep storage areas clean and store boxes off the floor. Also, keep food in sealed, rodent-proof containers.
Unique fact: House mice can fit through an opening as small as a dime. Although they have poor vision and are color blind, their other senses are very keen.
Roof Rats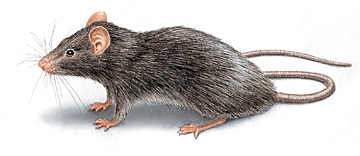 Roof rats can fit through holes as small as one-half inch in diameter. Because they prefer to be high in the air, these rodents may climb on power lines or tree branches to get on the roof.
These rats have no problem reaching almost any area of the house, so many homeowners struggle to keep these pests out. These rodents often enter homes from:
Chewing entry holes
Damaged vent covers
Gaps in shingles
Squeezing through cracks
Roof rats can cause extensive and costly damage from:
Chewing on electrical wires
Damaging furniture and storage boxes
Ripping up insulation
Roof rats spread diseases like salmonellosis through pantry foods contaminated with their droppings. These rats can also transmit rat bite fever through bacteria in their mouth. Trichinosis may be contracted through eating undercooked meat of animals that have fed on rats. Rats contaminating food or food preparation surfaces can transmit food poisoning.
Roof rats are the principle reservoir of plague throughout the world. Historically, infected fleas have transmitted serious plagues from rats to humans. Bubonic plague was a scourge in Europe several times throughout history. There are still outbreaks of plague in the United States and around the world today.
Hantavirus pulmonary syndrome is transferred via inhalation of:
Common ways roof rats transmit diseases are from:
Contamination
Droppings
Fleas that feed on the rodents
Physical contact
Droppings are a good indicator of roof rat activity. Their droppings are 12 to 13 mm with pointed ends, whereas Norway rat droppings are 18 to 20 mm and capsule shaped.Grease marks along surfaces can be signs of an infestation. Grease marks are produced as the rodent travels along an edge, and the oils in their fur are deposited.
Sightings of live or dead rodents indicate rodent activity. If roof rats are seen exposed, it often indicates their hiding spaces are all filled by other rats or that they have been disturbed, such as by construction. You can find indoor nests constructed in insulation area including attics.
Contact the pest control professionals
Preventing access to harborage and food is only the first step to keeping rodents out of your home. The most effective method requires a multi-step pest approach. A number of traps and baits are also available. However, these methods can be dangerous and need to be used correctly to be effective. Therefore, they should not be employed without the help of a pest control professional. Ensuring that your home is not a welcoming place for rats or mice will help make any other form of control more effective. But using a single method alone is not enough.
To establish the most effective rodent control plan in your house, contact Mike Nelson Exterminating Inc
CALL: 936-788-2284
An experienced technician can inspect your home and discuss effective methods for eliminating and preventing rodents.